How does Ellen's Picks work?

1. BOOK SELECTION
Every-other month, Ellen will select a book that she genuinely loves and wants to share with her community of 50 Christian women in leadership. She'll let them know why she's chosen it, and send it out to the community with a special gift! (Words of affirmation and gifts are her love language, so she just can't help herself). A complimentary copy of that resource will then land in members' mailboxes, mid-month.
2. PICK YOUR CONTENT
Throughout the month, as available, Ellen will share questions with the community, feature exclusive interviews with the featured author/sponsor, and provide additional downloadable content, study guides and sneak peeks – anything that might help her friends engage meaningfully with the month's resource!
3. VOICE YOUR THOUGHTS
At the end of the 6-week reading period, Ellen will host a blog link-up for her Ellen's Picks community and friends, encouraging them to participate in her blog link-up, commenting or sharing on social media, connecting with each other and sharing their feedback on the month's selection at www.ellengrafmartin.com .
4. FIND YOUR COMMUNITY
They will also have the opportunity to join a private Ellen's Picks' online community where they can meet and connect with each other – and pursue conversations over coffee in real life! Ellen has LOVED seeing women connect at meet ups in Ontario and Vancouver (which have been amazing events!), and hearing how they've chosen to get together in person when traveling across the country!
How do I find out more?

Visit Submit Resource or contact us at hello@ellenspicks.ca

About Ellen's Picks

Ellen's Picks is the realization of a dream; a vision to connect a community of Christian women in leadership from across Canada with each other and life changing books. Women who will read & journey together through a book six times a year – a book that Ellen has hand-picked. It might be something that has challenged, encouraged, or even just entertained her! It will be something to equip and encourage women who lead, addressing not just our day to day work but all the things that refresh, equip and engage our leaders' hearts.

Who is part of the Ellen's Picks community?

Ellen has connected with hundreds of women of faith from across Canada over time. These women of influence are early adopters, pioneers and trend-setters, yet often under-resourced. We've hand-selected 50 of these extraordinary female ministry, media, business and non-profit leaders and invited them to join Ellen's Picks as a pioneering community member.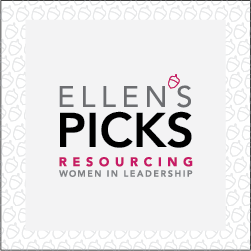 PLACE THIS CODE ON YOUR WEBSITE